Music
Playlists & Inspirational Music
Coachella Chillin' Playlist
The Tunes That Inspire Hedi Slimane's Rock Universe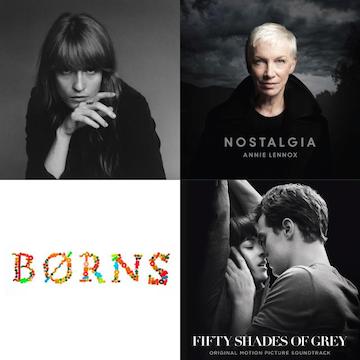 New playlist from DJ Nikki Pennie!
Out of Brooklyn comes Jack + Eliza, and their EP No Wonders. Their sound is a stripped down, new nostalgic look at the psychedelic sounds we know and love. We love the cover of Little Saint Nick that they rolled out for the holidays. You can listen to that exclusively on paste.com.
And here's a couple favorites from No Wonders -
Now is the time for favorites and Top Ten lists. In our final 2014 reflections this video stands out as a definite pick. It captures the visual of the sound and the experience of Robyn and Röyksopp.
Röyksopp feat. Robyn - Monument (The Inevitable End Version)
Solange (not) on Miami Beach
Solange Knowles was set to have her very own mainstage to curate this week in Miami Beach. SELECT is a satellite fair running alongside Art Basel this year and Solange is putting on the show. But last minute the plans changed and Solange is no longer setting a line-up. But that doesn't make her any less of an icon in today's music.
We would have loved to hear Solange's picks, but we'll have to be satiated by 'Solange's Selects', a playlist series released this year. Listen to this playlist if you want to listen like Solange:
We love her style, we love her music, we love Solange.
Watch this. Karl Lagerfield called upon Pharrell Williams and Cara Delevingne to duet and dance in this romantic fashion film. This project is lending it's promotion to the Chanel pre-fall show in Salzburg on December 2nd. We can't wait to see the entire film and the collection!
Lucius has everything going for them. Amazing music, sold out shows, two powerhouse power-pop female voices, insanely creative music videos, and enviable style. They've been playing together for a while and released their first EP in 2012. Since then they've been internationally touring on their debut album, Wildewoman.
This song first caught our ear and we haven't looked back since.
We saw their stunning show last year at Hollywood Cemetary and we fell in love with their matching fashion and terrific performance sense.
Check out their entire discography on Spotify.
Broods are the Next Big Thing
This brother/sister duo out of New Zealand has gone international and is selling out stages on their debut album tour. We got the chance to see their set at the release show in LA last month at the El Rey. They're extremely stylish and streamlined, it must be genetic. Georgia, on vocals, leads the sound with her piercing, soulful, and vulnerable voice. Caleb lends his brotherly support on instrumentals and back-up vocals. The sound is perfectly subtle at times and builds to all the right moments, they're a band that knows how to command the silence of a venue.
Their first album, Evergreen, was released just last month and they've risen fast in the ranks. We're sure glad they have because they're on the top of our list.
Take a listen through their first album, we would try to pick a favorite but it's too difficult.
Caught A Ghost has caught our ear. This LA band describes themselves as indie-electro-soul and we're into every second of it. The sound reaches to the past and pulls you out of your seat, so do yourself a favor and listen to their album. And if you're in LA then you get a chance to see them on December 3rd at the Troubadour!
And frontwoman Tessa Thompson is one beauty to keep your eye on. Her sense of style inspires envy and she's a triple threat who is about to be a big time movie star. She stars in this season's Dear White People and Selma.
Leighton Meester has a hold on our 'Heartstrings'
Last week the wonderfully stylish Leighton Meester released her debut album 'Heartstrings' and played a release show at the Troubadour in West Hollywood.
We already knew she was fun on the small screen, Queen Bee Blair Waldorf stole our hearts from Episode 1 of Gossip Girl, and her style is impeccable, we've been stealing her cool, casual look for years, and now we know that she is quite the triple threat. The album is fun and proves that Meester is more than just another actress-turned-singer, she's got the voice and the presence for the music world.
Keep an eye out for Caroline Vreeland!
Her music is haunting and we want more. We can't wait to get our hands on her forthcoming EP In Ruins. For now we can watch the stunning video for her released single, "The Mauling".
​"I want to be a pioneer woman, in that, I don't let the stigmas of Hollywood or the music industry taint or compromise my passions. It's in my blood." That is, the blood of the great Diana Vreeland. Yes indeed, Caroline is the Great granddaughter of the fashion legend and shares an air of the 'it' factor.
(Here she is, shot by Josh Reed for Seen Heard Known)

Keep tabs on Caroline through her website, instagram and twitter. ​

English sing-songwriter Jessie Ware has released her second studio album to very eager listeners. Just take a minute and listen to it and we promise, you'll be a fan!