Hedi's World of Razzle Dazzle Dandy Boys & Bohemian Glam Rock Girls
by

"Fashion somehow, for me, is purely and happily irrational."
Luxury, Star Power, & Grandiosity- an eruption of rock'n'roll cool kids pace across the runway floor with storming dynamism and angst fueled attitude. The fashion and celebrity world alike is a-buzz after experiencing Hedi Slimane's 93 look strong collection, the whole affair taking a retro rock concert vibe long before the first looks hit the runway. And he could not have chosen a more appropriate fashion forefront, as his tribute to the music scene launches in the middle of a thriving, LA "belle-epoque" of music. Every meticulous detail, sewn from the strings of Hedi's deep devotion to music, homage to the city's fashion history, and respect for Yves Saint Laurent's iconic history. After a decade of photographing the most up and coming, invigorating new musicians, his aesthetic is deeply grounded in providing a genuine and comfortable image that reflects the dreams and passions of his eclectic admirers. And to perfectly compliment it all, he's elected to show the first half of Saint Laurent's Fall 2016 collection at The Palladium, one of LA's most historic concert halls. This week we are celebrating Hedi Slimane as our visionary icon and the voyager of the new luxe grunge lifestyle.
This timeless style Slimane has created – perhaps best described as that of a "chic, tortured artist", consisting of classic iconic pieces worn with tough ankle boots, lacerated tights, mosh pit hair and smudged eyeliner will certainly take a leap into the glamourous world of 70's cinema this coming season. The collection was rife with vintage references reimagined with that Saint Laurent spin—Bowie tuxes, Terence Donovan inspired three-piece suits, and elaborately textured Klute inspired sequins galore. Bandleader jackets, velvet capes, and musical notes emblazoned across the back of jackets intertwine with a distinct western influence too. Cowboy shirts with studded yokes, vests swaying with gold metallic fringe and prairie-style dresses in pleated leather were amongst Hedi's grand sea of rocker rebellion flowing down the catwalk with unapologetic ease. Slimane continues to thrill and scandalize in equal distances—just how Yves would have wanted it.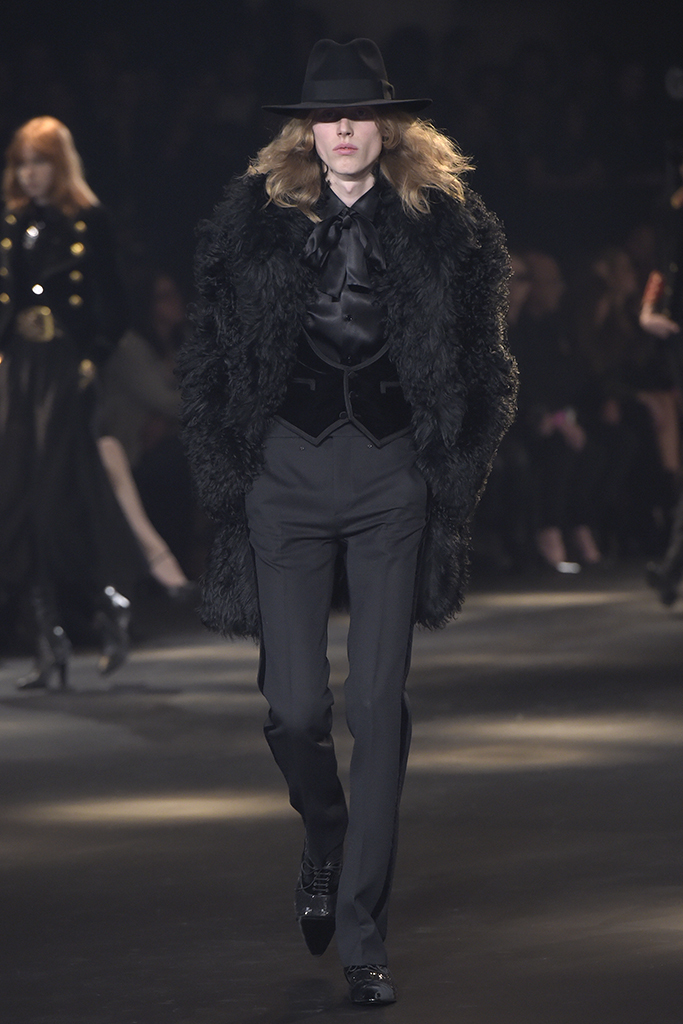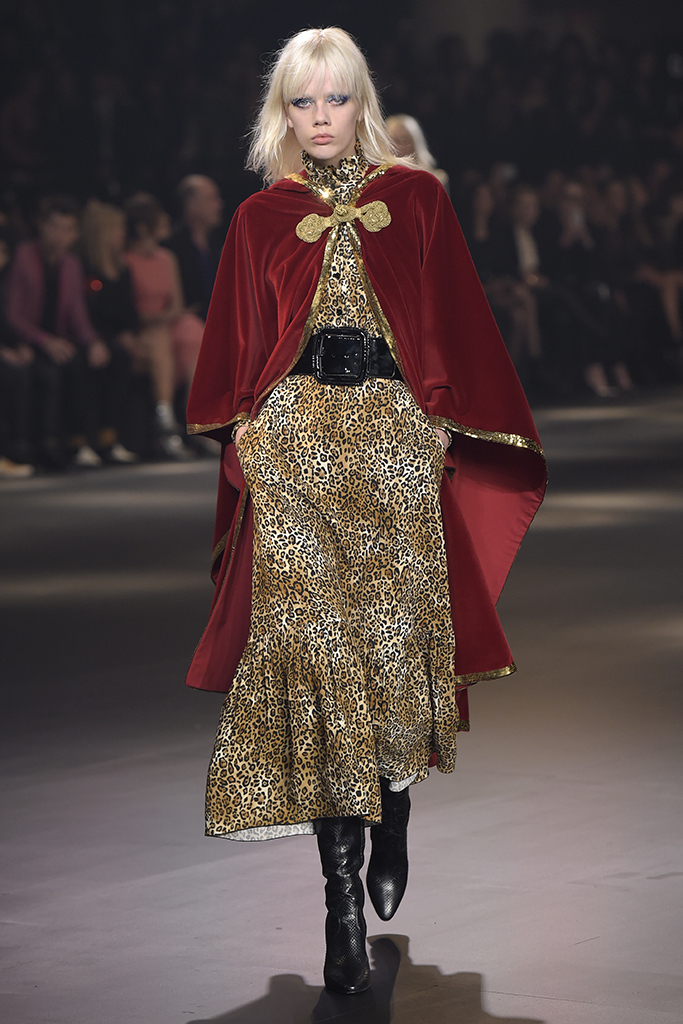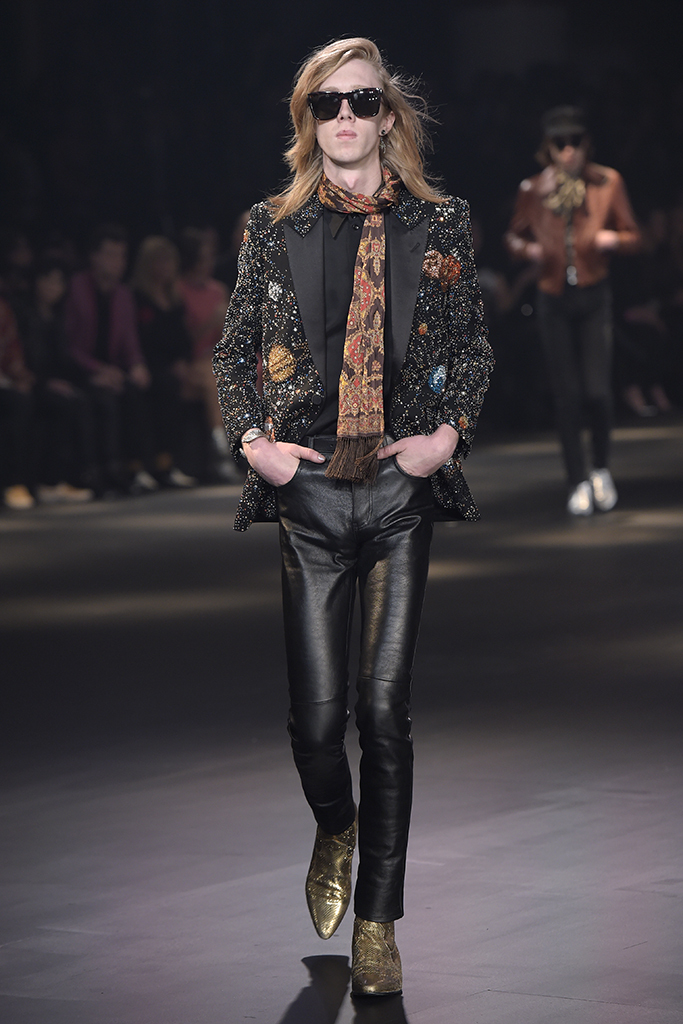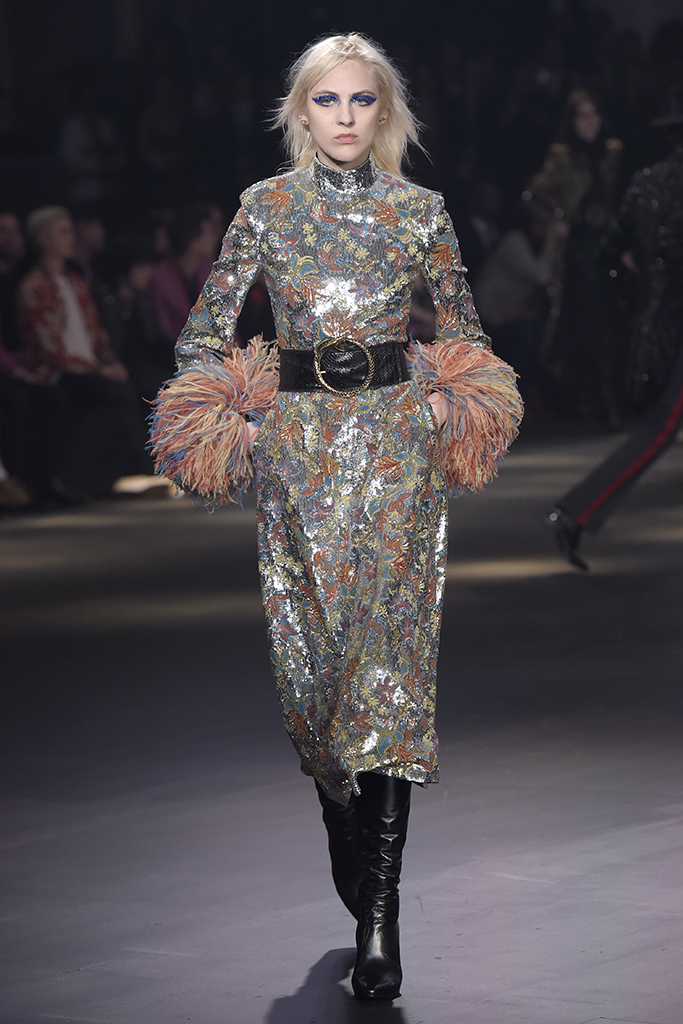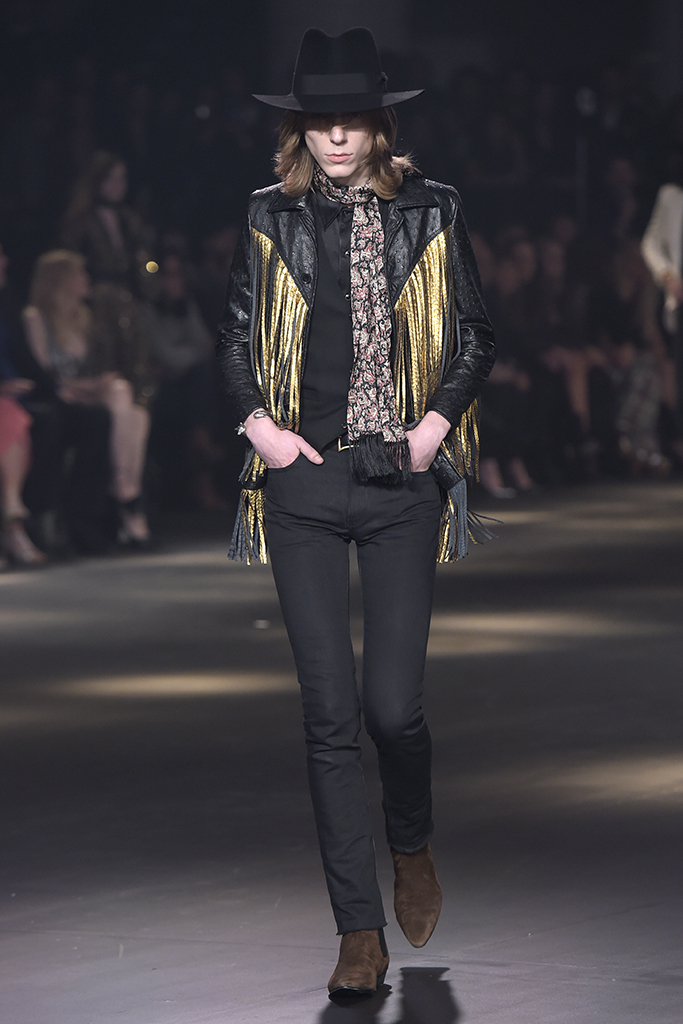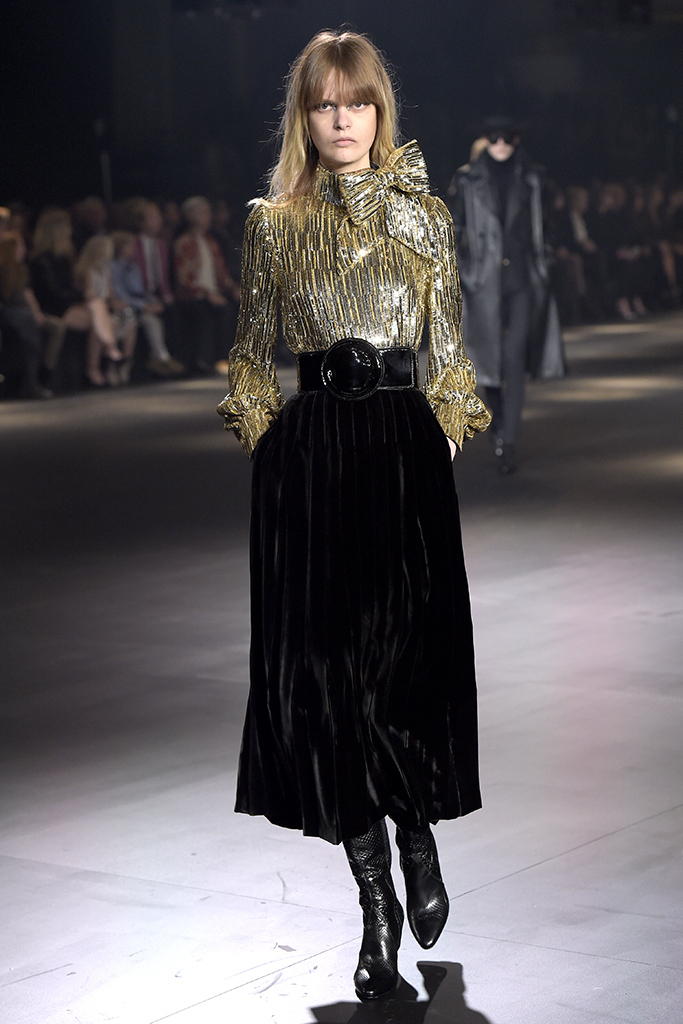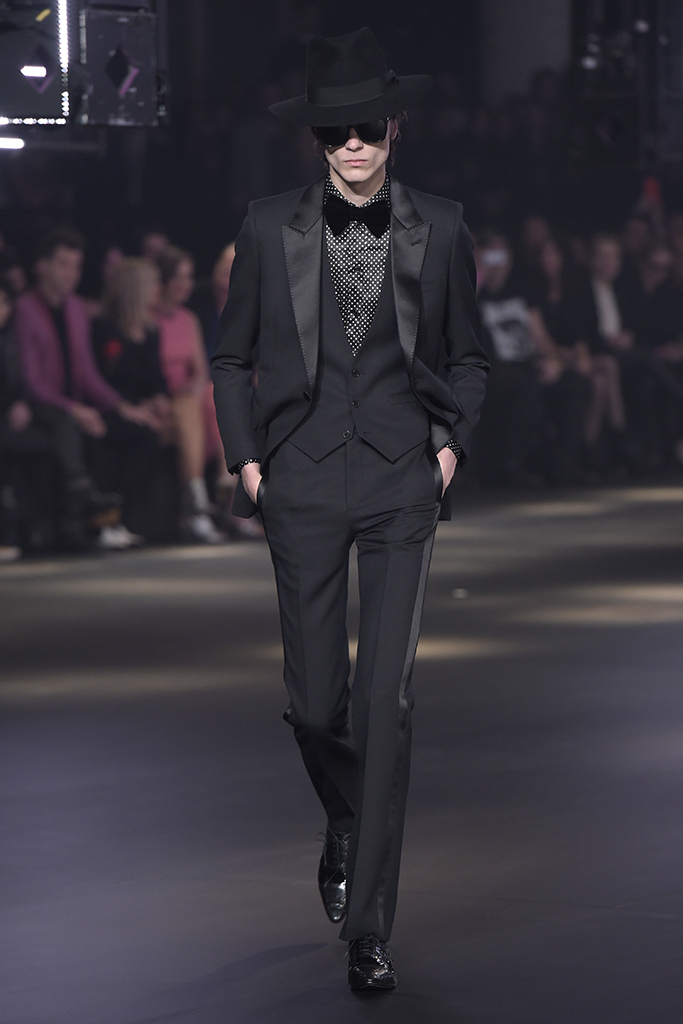 In true L.A. style, the vestiaryl tastes of attendees ran the gamut from Hawaiian shirts to ball gowns, from faded denim vests to bell-bottom suits. Spotted in the mix were leather jackets and tattooed breast bones, and men in sparkly capes and women in sheer skirts.
And how can we forget those familiar faces and names? Lady Gaga, Courtney Love, Justin Bieber, Demi Moore, Lenny Kravitz and daughter Zoë Kravitz, Sam Smith, Hamish Bowles, along with Sylvester Stallone were in attendance, as were Joan Jett, Lee Daniels, Zac Efron, Liz Goldwyn, and Jane Fonda. Here at Iconhouse, we have been working closely with Hedi and his Yves Saint Laurent team to create unforgettable looks for the iconic Jane Fonda, who came out to celebrate Hedi - this being her first ever runway fashion show.
In the past, he's mined a rock 'n' roll grunge look with authentic interpretations of thrift shop styles based on the time-honored looks of Jimi Hendrix & Kurt Cobain, glam rockers and present-day Coachella-goers. But this time, in showing the complete men's collection and "part one" of the women's collection, Slimane also paid his most overt tribute to Yves Saint Laurent's DNA, to celebrate the 50th anniversary of the Rive Gauche collection. Although he is French-born, he's adopted Los Angeles as his home town, and it is this Californian classic cool which informs much of his design. He observes that "many of the cult figures in men's fashion were musicians", and because he spent so many years documenting the realities of L.A. rockers, he has a sense of the new vanguard of style. It is Slimane's love for creation and for art that is responsible for the way he approaches style, something that is pure and an organic process. He talks about his relentless "pursuit of the idea of perfecting something apparently simple". Yes, we have seen leather jackets, and yes, we've seen the slim back trousers done before, but Slimane's creations go much deeper than that.
It is an attitude; a powerful angst that embodies the resurgence of the youthful underground and the kind of timeless lure of looking rockstar sleek. It is the sumptuous parisian craftsmanship of the fabrics, not to mention the juxtaposition of textures that are both rugged and delicate in a beautiful swirl of femininity and masculinity. He reaches back to an era of Los Angeles that parallels the spirit of the times now. Back to the late-sixties, early-seventies when Janis Joplin wore broad-brimmed hats and fringed suede, and everyone dawned the breeziest chiffon sleeves and cropped jackets. We even see the glimmer of Yves Saint Laurent himself and his Le Smoking tuxedo that pioneered the start of the classic power suit. United with his knowing take on grunge- rips and tears, slouchy layers, androgynous overcoats, fishnets, baby-doll dresses, and plaid shirts poked with the pins of your favorite band, the Saint Laurent woman had been reinvented.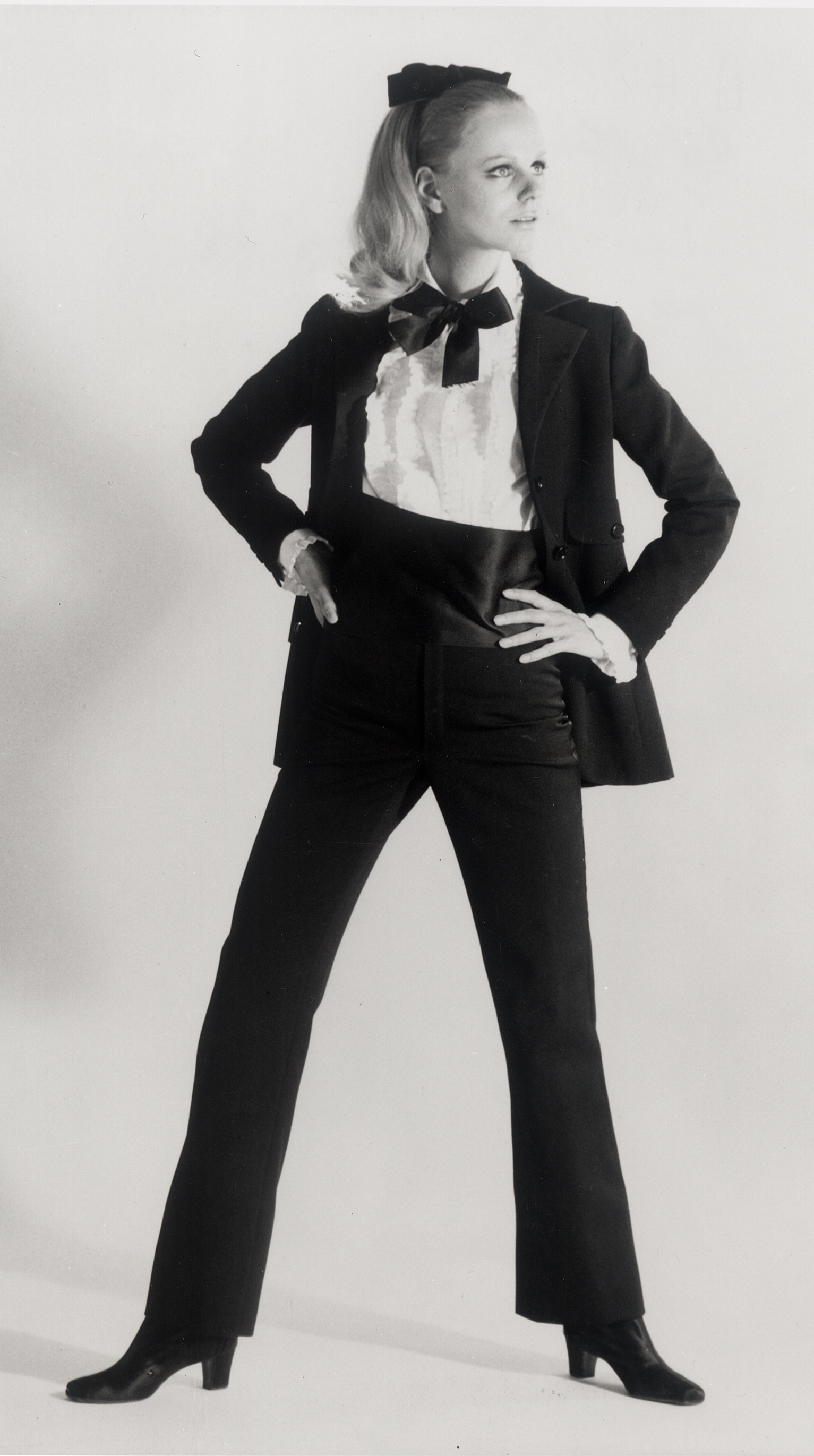 Slimane has been underwhelmed with many of the fabrics available to designers today and his astuteness stems from the influence of his seamstress mother. After years of surveilling her work, he quickly picked up an eye for complexly crafted and exceptionally tailored fabrics. Part of what is so refreshing is his refusal for anything sub-par: he finds most fabrics cheap and generic and don't sit right—so he often commissions his own, harking back to the specialty weaves of the sixties and seventies. "What people didn't see in the grunge was that literally 40 percent of the pieces were handmade in the Paris atelier," Slimane says, done to the highest haute-couture standards. Partly, the idea was to remove the sheen of preciousness. But it was also to dignify street style with the craft that old-world techniques can allow.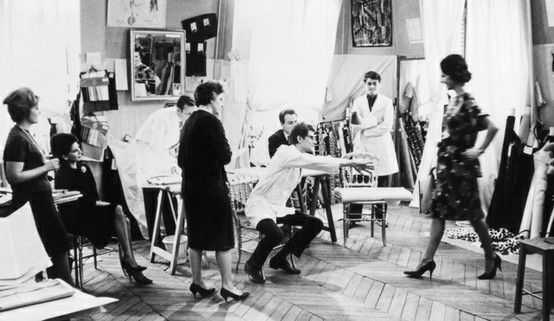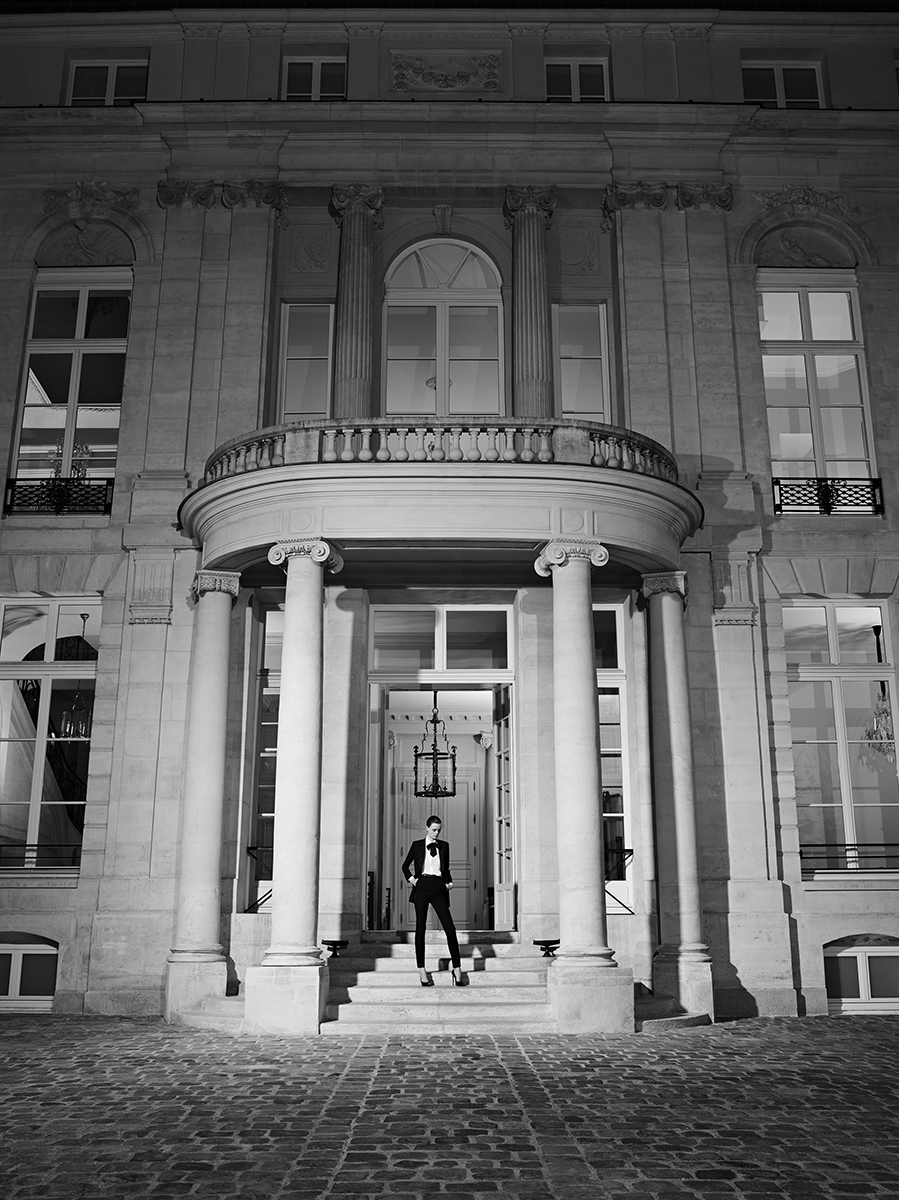 Even as the moods of his collections change, Slimane's style is unmistakable, based in precisely tailored garments in an almost photographic black-and-white palette, alongside a kaleidoscope of colors. His aesthetic has been called androgynous, but a more exact term may be ambi-sexual: Like a pair of classic aviator sunglasses, many of his clothes look equally natural on both genders. When women started buying Slimane's Saint Laurent men's ankle boots last year, he began selling the same shoes in female sizes. And when he showed resort this summer, he had the men's spring 2014 collection placed alongside women's resort 2014, stressing their interchangeability. Is this really so different from the work of Yves Saint Laurent—the designer who first taught the world that stylish urban women could look great in a safari jacket or a well-cut tuxedo?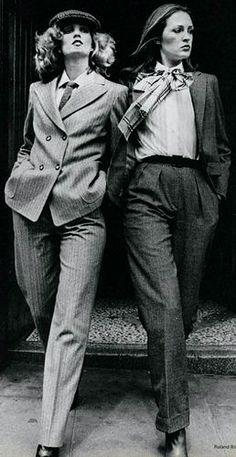 Slimane is a transformative force in the industry, someone who is capable of attracting the attention of a younger crowd more than most of the fashion elite. He is not manufacturing trends, he is creating a lifestyle. He has a keen sense of identifying what is interesting and incendiary, smoothing away the rough edges, and repackaging it all in a way that is easily identifiable, understandable, and aspirational as a look to his clientele. This has set off a chain reaction at the top of the designer fashion industry as corporations scramble to cast talents they pray will be able to replicate Slimane's magic."
Slimane's menswear lines have drawn on the sartorial style of various movements in rock music, chief among them the recent revival of British guitar rock, which in turn harks back to the punk, glam, and post-punk eras of the seventies and early eighties. In turn, the bands that inspire him end up wearing his clothes: newer acts like Razorlight and Franz Ferdinand, mid-careerists like the White Stripes and Beck, and pop idols like Courtney Love and McJagger, who have become friends as well as clients.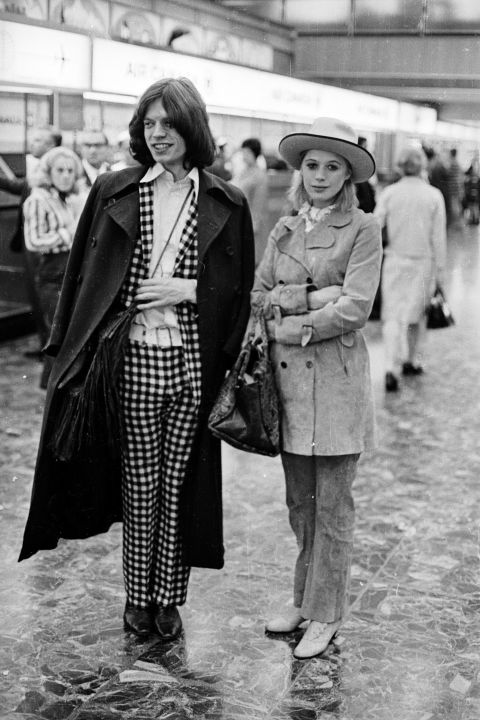 He has turned the customary idea of a fashion show on it's head, as an image-enhancer rather than a vehicle to sell clothes. Slimane's loyal devotees cannot wait to have the runway looks and you only have to spend five minutes in one of the Saint Laurent stores to feel that the cult of Hedi and his brand have a life of their own. These days, Slimane maintains a large Twitter following and a highly regarded photography site, on which he features his unorthodox fashion shots and documents his rock-infected L.A. life with images of rodeos, underground concerts and surfers on the California coast. Even the invitation to his latest show dripped with originality as a homemade feeling, zine-like book of colorful abstract prints by the American artist Matt Connors. Slimane seems to take fashion not as an end point but as an access point for genuine creativity. Hedi Slimane has again crafted the rock and roll rebirth of fashion and we are highly anticipating what is to come from one of the most influential designers of today.
By Jessica Aurell