The Lady Gaga Experience
by

Molded by music, fashion, technology, art, and glistening David Bowie spirit.
A single spotlight brightens, an immediately recognizable melody commences, and something entirely different, a tang of technological detailing unlike anything ever seen before sends shivers up your spine and scatters goosebumps down your arms. Begin with an intimate close up of Lady Gaga, closed-eyed and deeply engaged in a passionate start to the emotional climax of the Grammy Awards this year. A tribute to none other than her hero himself, David Bowie, an obvious deeply personal rendition of Space Oddity kicks off the heartfelt, seven-minute nostalgia trip through Bowie classics. Drenched in creative affection and devoted ambition from Gaga and Bowie's producer, Nile Rodgers, the star's diverse career was immortalized in a moving homage that perfectly embodied both the Gaga and Bowie spirit. The performance, a revolutionary mashup of music, fashion, technology, and art, was a visual spectacle that we truly have never witnessed and could be the start of an entire new platform of performing artistry.
And it all boils down to the inspirations of two envelope-pushing performers, the iconic David Bowie, and Lady Gaga- whom we at ICONHOUSE believe is an undeniably important creative force in the world.
Watch for yourself: https://www.youtube.com/watch?v=3fGBZhsa4VU
Technology has a profound way of affecting stage performance, a way that is potentially capable of taking the human experience to a much more interesting and unimagined level. Thanks to a close collaboration with Intel, mutating projections, choreographed robots, and special effects that were other worldly interacted with each other to forge an almost athletic montage. "I want to reach out and touch the world in ways I never could before," Gaga says in a video for the site. "It all starts here on music's biggest stage. With Intel's technology at my fingertips, everything will change." As someone always pushing the boundaries, she craved to go deeper than the standard constraints of what has already been done. In the past fall, a team of Intel engineers began working with Gaga to construct the technology she envisioned using. It was Bowie's passing in early January, that pushed her to reimagine her upcoming multi-media performance at the awards ceremony as a tribute to the icon who resonates so profoundly to her.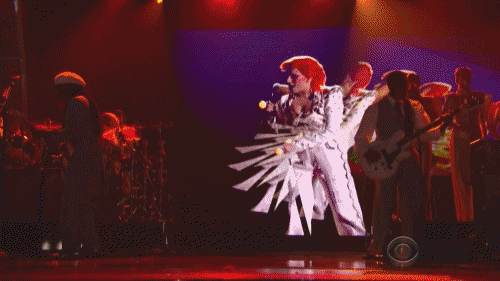 So how did they do it? Her team of scientists turned artists, began by tackling the issue of how to pay homage to so many emblematic looks over the short course of a live and short production. Intel created "living canvas" technology of sorts, that allowed Lady Gaga to have what they refer to as digital skin. Although not necessarily new technology, as we've seen similar usage in tech art installations, it has never taken shape in live performance. In order to project "makeup" that changes instantaneously, yet still looks organic, the team created a 3D scan of Gaga's face in about twelve poses with extremely advanced scanning technology. 3D motion graphics based on her exact facial measurements the the Bowie looks she wanted to recreate were then created and applied as a mask-like projection. Five infrared-sensing cameras hone in on infrared markers placed discreetly on Gaga's face during the real thing to tell computers exactly what rotation or angle her head is and the location of her facial features. "Are her eyes opened or closed? Is her mouth happy or sad? Are her cheeks up or down? We have to track all of that with very intricate detail and then in real time we have to adjust that digital makeup that we've computer generated, get it sorted according to how her facial position is, and project it exactly to the right place at the right time," explained Paul Tapp Intel's director of technology.
Now, you may have noticed Gaga's large, glowing rings and brushed them off as just another elaborate fashion accessory, when in fact engineers created this wearable architecture to house Intel Curie technology, so the singer could actually control what happened on the stage around her. Curie's microcomputing pieces generate visual effects that give her magical command onstage- the ability to have real time control of the environment including the L.E.D wall behind her and a three-dimensional hologram of Bowie himself. "The Curie ring gives her powers beyond her body and you'll see that incorporated into this space, like a theme where stars and black holes all kind of come together under her control. We expect it to look very dramatic," continues Tapp.
And it doesn't stop there. The continuous effort to produce out-of-the-box innovation brought robotics to a whole new life. This is where the epitome of technology comes to life. Robots with mechanisms eager to perform in their already kinetic nature of their movement are installed into a funky, old, upright piano like the kind Bowie use to play, and bring the music truly to motion in an ultimate expression of energy. But, it wasn't enough to program the moves into the dancing piano, they had to be taught. Intel put six Curie modules over one of the dancers bodies and tracked his movements. These trackings were translated to robot terms essentially, where the machines would adapt to them and learn them. Robots are learning actual dance movement from human bodies, another example of the great lengths gone to produce an authentic portrayal of the Bowie spirit.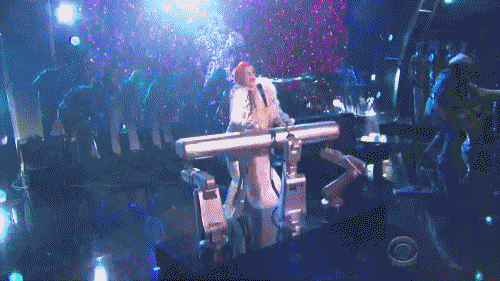 All of these complex pieces communicate together to reveal an experiential and multi sensory showcase of the future. She wanted to do a lot with space," said Tapp. "She loves the cosmos. There's obviously a lot of inherent beauty in the heavens, but it was more than that. She loves the kind of gravity and motion aspects of space as well. With computer graphics, you're able to get some very rich, very photo-realistic, amazing looks, but we wanted to take that one step further and make those graphics respond to her. It's not necessarily pre-rendered content. It's content that actually reacts to how she's moving onstage. Further more, we were able to project that content on to some very special materials, which make it appear like she's hovering in space."
Lady Gaga is excited to be able to shine light on the scientists that she considers artists who make these effects possible. Developing, researching, inventing- they are dreamers and that is the very essence of being an artist, having a strong vision that you chase after.
For Gaga, this was a tribute that went beyond the stage- it encompassed her entire evening, the days leading up to, and her own very personal love and admiration for Bowie. As a New York kid named Stefani Germanotta, who had her own history of depression and abuse, she was drawn to the eccentric and ever changing personas Bowie took on. She understood first hand the feeling of needing to change skins because you're scared, insecure, or don't like who you are. Even though Bowie was notoriously very shy, he could get onstage as his new identities and this sparked the creation of a wild, protective outer shell for Stefani she called Lady Gaga. In 2008, Gaga thanked Bowie "for inspiration" in the liner notes of her debut The Fame. The following year, she listed his single "Rebel Rebel" as one of her favorite pop songs of all time in her first Rolling Stone cover story.
"When I fell in love with David Bowie, when I was living on the Lower East Side, I always felt that his glamour was something he was using to express a message to people that was very healing for their souls," she said in 2012. "He is a true, true artist and I don't know if I ever went, 'Oh, I'm going to be that way like this,' or if I arrived upon it slowly, realizing it was my calling and that's what drew me to him. I don't know." She continued, "I just know that you can use the theater of your imagination to entertain people beyond their wildest dreams, and then you can put something inside of that that changes the world. And that, to me, is when you make something truly great as an artist."
Lady Gaga doesn't do things in half measures, so her David Bowie tribute at the Grammys was always going to be epic. She arrived dressed in a custom Marc Jacobs outfit which was undeniably Ziggy Stardust-inspired. She truly captures the conscious theatricality of Bowie as a performer and his peacock showiness that had roots in cabaret, glam rock, and gay camp. Bowie wore a dress on one album cover, became an alien rocker from Mars for another, a thin white duke for a third. Which was the "real" Bowie? If you thought that mattered, you were missing the point. Lady Gaga takes mutability more directly into the fashion arena, with dresses made of meat, avant-garde and practically sculptural garments, and preposterous platformed heels. There's no shortage of glam and flash and sass and songcraft in her work, but it's still all about performance.
Her rapid-fire medley explored several Bowie guises that melted and transformed in real time. Strutting onto the stage in a white cape that reincarnates an almost identical kimono worn by Bowie, she sings "Changes" before kicking into fully choreographed renditions to songs like "Fashion," "Let's Dance" and "Rebel Rebel", where she vanished behind a screen and morphed into a warped projection. Nile Rodgers joined in on guitar for the second half of the tribute, which ended with "Heroes". Yes, It was a burst of rock 'n' roll energy on an otherwise sleepy night, that ended in a rightfully earned standing ovation as Gaga looked skyward, then grabbed Rodgers' hand.
Lady Gaga wanted to create an expression of not only David Bowie's magic as a visual artist and musician who was the first of his kind to combine music, technology, fashion, art, and to show that there is magic that can be made with technology. It is not just flat mechanics, big machines, computers, and the internet; there is capacity to create imagery that is other wordly, create moments, events, and experiences that have truly never existed before. something that Bowie would have wholeheartedly supported. Gaga's passion for who Bowie was is evident and pure as she captures the very essence of creativity, artistry, and spontaneity that set him apart. She reminded viewers/listeners of why Bowie's music will continue to resonate for a long time to come. And honored the changes that made her idol seem so revolutionary in the '70s and '80s and remain a crucial influence on the pop landscape of today.
David Bowie allowed Lady Gaga to feel free enough to be who she really felt she was. Collaborating with pioneers of technological advancements and those who have worked closely with Bowie, who loved him and knew him for all his life, was a special experience that gave her performance that Bowie authenticity. "To imagine the unimaginable, to see the unseeable, think the unthinkable, invent the uninventable, and that is what the performance is trying to say" and that's what he was and is forever.
By Jessica Aurell