Ready-To-Wear As Dreamy Sculpture.
by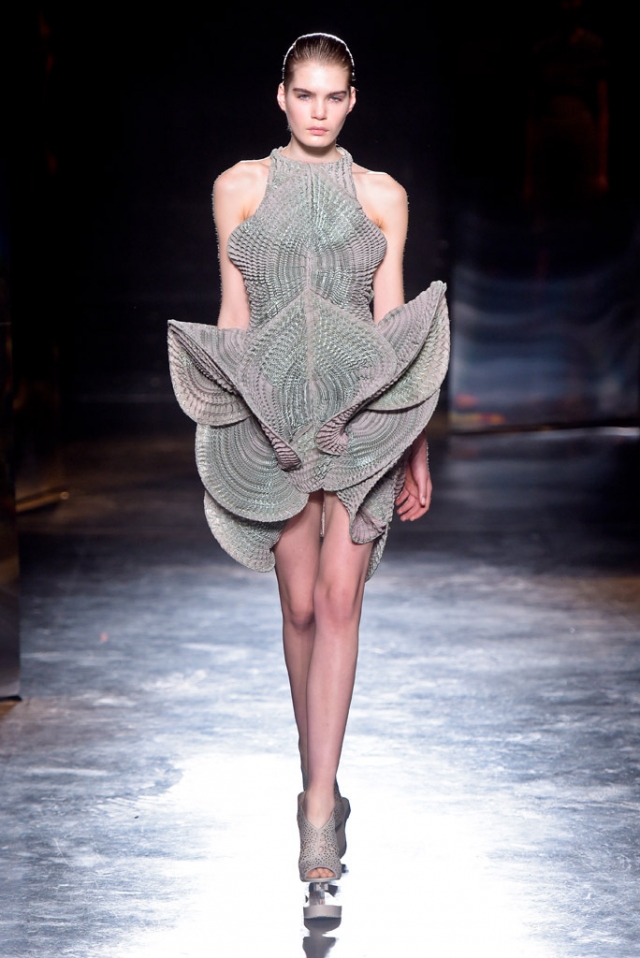 This week we are obsessed with Dutch designer Iris van Herpen, who presented her Fall collection via a living picture in which models performed in front of giant optical light screens. Used in TV technology, the thin screens are used as both mirror and window, reflecting a doubled image that shifted depending on the model's position and the viewers point of view. Van Herpen explained that she designs in an unconscious state, "between reality and dreaming," and she wanted to re-create this lucid condition in her audience- "to give people the possibility of exploring at their own time and pace." And the result was captivating, Not just to watch the models, who were choreographed by director and dancer Bianca Li, but also to see how the crowd interacted with them, mostly via small screens of their own.
Van Herpen's work reveals the secret structures of our existence giving us a multidimensional experience of what it is to be alive, it is an investigation into the past, present and future in all its primal and mythological forms. Party dresses in alien shapes and textures, worn with leather sandals that appear to float several inches over their wooden soles. Van Herpen's uncompromising designs often only flirt with wearability. You would need to be a scientist to understand the computer-assisted techniques required to realize these exoskeletons, among them 3-D printing and flexible thermoplastic polyurethane printing. Or you could just pull out your iPhone and try to capture their extraterrestrial beauty. See-now, dream-now, van Herpen's designs are purely uplifting, unprecedented, and utterly iconic.