Refrigerators Giving "Cool" a Whole New Meaning
by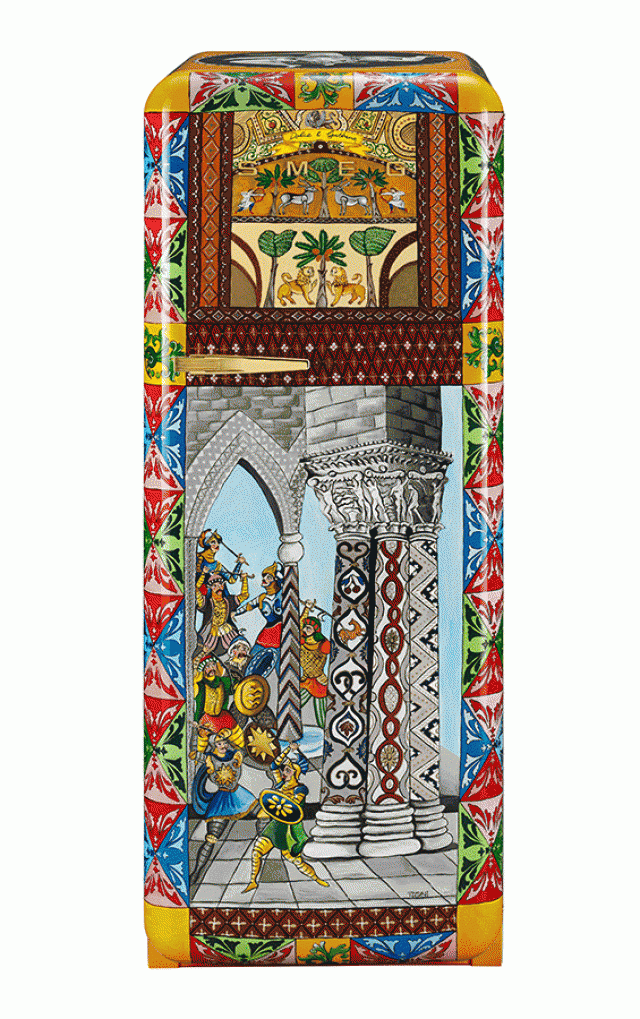 Inherently trending and delightfully colorful, the newest collection of limited-edition FAB28 SMEG fridges are the product of an unlikely marriage between style-savvy Italian appliance manufacturer SMEG and Milan-based fashion house Dolce & Gabbana. Turns out that the two companies go together like peanut butter and jelly.
United by a passion for Italy and a deep respect for craftsmanship and design, the companies collaborated to produce 100 one-of-a-kind refrigerators for a special edition Frigoifero d'Arte — Refrigerator of Art — collection. Using the iconic SMEG FAB28 refrigerator as their canvas, Sicilian artists were tapped by designers Domenico Dolce and Stefano Gabbana to create scenes and patterns inspired by elements of the country's beloved marionette theater and the colorful, Gypsy-like decoration of traditional, Sicilian horse-pulled carts.
The artists interpreted the direction with vibrant, sun-drenched palettes depicting medieval knights, famous battle scenes, Italian lore, the area's bountiful lemons, folksy patterns, and the three-legged Trinacria design symbolizing the head of Medusa and the triangular shape of the island of Sicily. Each refrigerator is painted by hand and signed by the artist. Form and function meet fashion and food. It's a match made in, well, Italy.
Although SMEG has partnered in the past with companies such as BMW (creating a refrigerator modeled after a Mini Cooper) and Swarovski (a crystal-encrusted fridge with golden handle), it's the first time it has teamed with a haute couture fashion brand. The wild and whimsical collection is scheduled to premiere at the international furniture fair, Salone Internazionale del Mobile 2016, April 12 to 17 in Milan. Priced at 30,000 euros — or roughly $33,493.50 in U.S. dollars — and available directly through SMEG, the fancy fridges will take a bite out of your wallet. However, in a world hungry for unique design, this fridge serves it up.