Fashions Darling Bud of Spring
by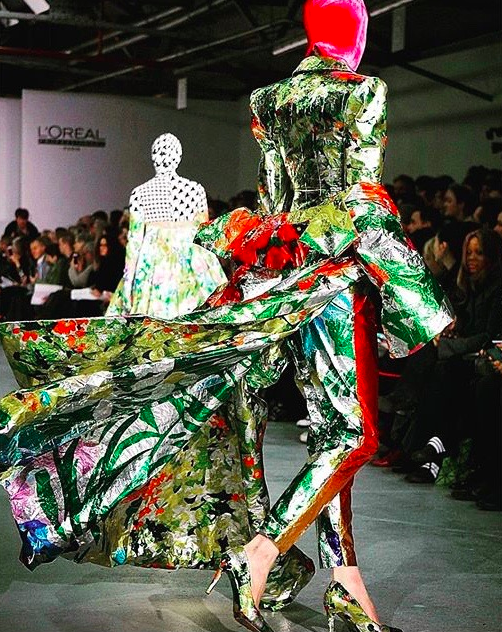 Fashion superstars, celebrities of haute couture, big names like Stella McCartney, John Galliano and Alexander McQueen, all pass through the renowned Central Saint Martins college, and now there's a new graduate on the industry's playing field you should undoubtedly keep an eye on.
Richard Quinn, creator of 'cracked couture' and teller of frayed fairytales, indulged us in unsettling masked models draped with overblown floral textiles and voluminous opera coats. The resolutely maximalist aesthetic channels a feeling of twisted moodiness and avant-garde artistry. With power shoulders lifted from the 80s and waistlines that echoed Dior's seminal New Look, Richard Quinn's vivid reimagining of fashion archetypes was undoubtedly the most 'grammable' collection of this year's Central Saint Martins MA Fashion show.
His masked models hit the catwalk under the starry sky of showgoers' iPhone flashes in one‐pieces covered with fuchsia roses, slick black patents and the designer's favourite – a 50s floral frock paired against black and white houndstooth. And there's so much more behind Quinn's artistic decisions than mere shock value. Inspiration drawn from endless research into a relatively unknown artist from the 60's, Paul Harris, significantly shaped the imagery collection. Harris's had fully upholstered figures camouflaged in print and clashing textiles in a way that felt modernly preturbed to Quinn. Although these pieces were made decades ago, there is a refreshing appeal his art that is undeniable. One image in particular became a starting point for Quinn, one in which figures are simply. depicted in a room together. He describes the piece as "very strange, but engaging" and he orientated his concept for this collection around capturing the feeling of the different women and moods happening within this painted room, and that through this, women become a textile in their own right.
But equally eye-catching was his BA work – a collection of ripped and collaged evening gowns – which showed so much promise that Quinn caught the eye of the Stella McCartney Foundation, who sponsored his MA studies. Since then, Quinn's designs have toughened up and modernised. The look is darker, with a more attitude than his previous work but with signature prints that provide a strong identity.
The collection was really about creating the effect of an overload of textile, so the models would embody that fabric and mood, and be visually arresting. Immersing his models in color and print, everyday women are transformed into romantically tough live art pieces decked out in second skin velour, hessian mixed with embroidery and bold mushrooming florals, creating unexpected twists of colour, fabric, and form. Every piece is hand-printed, treated and painted, and there is a real sense of quality and integrity to his craft. Taking the image of a rose print and covering the woman completely, then pairing it with bizarre cuts and commanding thigh-high boots – it becomes something otherworldly and dark, quite unhinged. It adds to how unsettling the image becomes. Alien yet familiar, forms swallowed in mossy velvets, stiffened linens, and opulent materials of all varieties, the garments inquire the nature of our identity in fashion. The model's expressive features are hidden away, yet there is such emotion, such persona, with every step down the runway.
You can view all of the CSM looks here with Quinn's collection at the tail end. You can follow Quinn on Instagram too, as he is certainly only just beginning to bloom in the garden of visionary fashion designers.